Fiddler's Green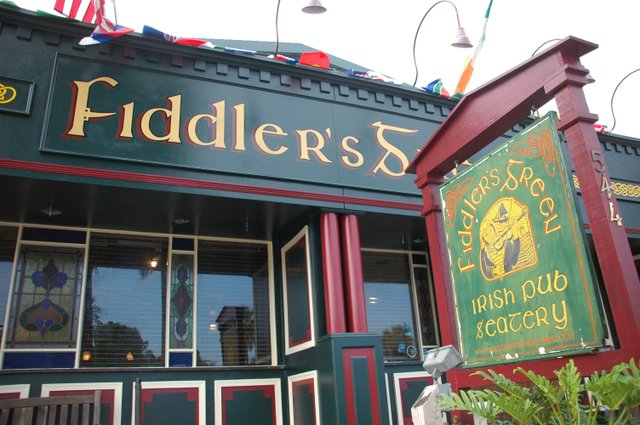 Photo from Florida Burger Lover
Fiddler's Green Irish Pub
rem·i·nisce
/ˌreməˈnis/
Verb: Indulge in enjoyable recollection of past events.
Synonyms: remember, recollect
A colleague recently turned 29, yes for real, not 29 again. As per usual, the birthday person selects the lunch venue and the fun ensues. What kind of fun? Well, I guess you'd have to work here to know that what happens at lunch stays at lunch.
Fiddler's Green is an established Irish pub located in Winter Park, Florida. From weekly darts to annual charity golf tournaments, to nightly Irish acoustics, blues and even local rock standards, you'll likely enjoy any night of the week. The pub is conveniently designed for the standing or sitting bar crowd, a small section for bands as well as multiple options for private and event dining. I have many fond memories at Fiddler's and our lunch outing added a pleasantly new perspective to my somewhat foggy recollection of long nights here with friends and college classmates. In fact, this was the first time I left Fiddler's during daylight hours and stone cold sober.
Historically we ordered the usual pub fare to soak up the pints of traditional beers on tap. Fish and chips, chips and salsa, chicken fingers, spinach dip, shrimp cocktail, you name it they'll make it. But this time was different. Absent the elevated chatter and live music typical in any lively bar, we dined in the side dining room. True to the style of the rest of the pub, dark wood and traditional design, it was quiet save our usual work banter and hilarity. To evaluate the interior and wait staff in natural daylight and without boozing it up begged this post.
I ordered the Scotch Eggs. Boy were they delicious! The sausage was perfectly seasoned and not ready or overpowering and balanced in texture and flavor by the egg.
While the scotch eggs could have been a light meal itself, but I shared half knowing the real prize was on it's way… Irish Stew. The lamb was tender and cut in bite size chunks in a bath of delicious vegetable laden gravy. Combine a spoonful of stew with the whipped potato and chives and what?! It silenced me. As I looked up from my dish, one of my colleagues who ordered the same, nodded only as we continued to mentally block the rest of the table and forge on through the bowl of greatness.
Also of note were the mini smoked sausages cooked in what? Guinness!!
I ordered one of several burger options on the menu: The Munster Burger. Obviously you can't miss the onion ring stack, real bacon, and oozing barbecue sauce. Definitely a fork and knife sandwich unless you want to challenge your jaw.
……………
While my party hard nightlife days may be few and far between, albeit admittedly over, I will return to Fiddler's Green for a meal more often. I learned that day that it's more than a great pub, it's true Irish through and through.
---